Believe in Yourself | Girls Can Residency
Posted by More Music on 01 October 2021
Earlier in the summer, More Music launched a new series of Artist Bootcamps for young women from Lancashire interested in developing a career in music across as part of our Girls Can initiative.
Girls Can is More Music's campaign to address the imbalance of women's representation in music, celebrate young women's achievements and provide opportunities to explore areas of music and technology, where barriers often exist.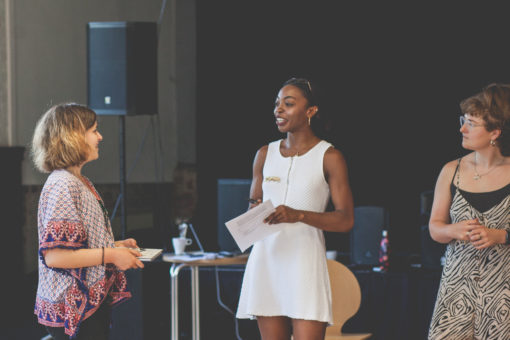 In July, a group of 8 aspiring musicians, singers, songwriters and producers aged between 14 -19 joined Manchester based artists Sarah Angel, IORA, ONEDA and Lancaster sound engineer, Harriet North for an exciting and inspiring 3-day residency focusing on musical, personal and artistic development.
The aim of our first Artist Bootcamp was to explore the art of songwriting, production and collaboration in a safe and supportive environment whilst building the group's self-confidence and belief – something that became a key theme of the 3 days.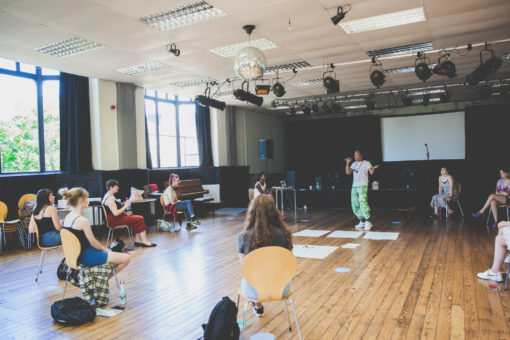 The group was mentored through the process of writing, producing and recording; from generating lyrical ideas to using music production software. For many of the group, this was the first time they had experienced producing their own tracks, pushing them out of their usual comfort zones. However, the results were amazing!
After the showcase event, where everyone performed to friends and family, one of the participant's parents fed back:
'The workshops you did really inspired her to write a song well out of her normal comfort zone of piano and vocals and to try something a bit more rocky with drums and bass lines. She was very excited about this and wants to take it further.'
On top of all the new skills gained and songs created during the 3 days, 'Believe in yourself' became the significant message of the week
Lack of self-belief was identified, at the beginning, as one of the biggest barriers to achieving full potential. Observing the young women grow in confidence during the residency was a major success of the project.
Facilitators and participants all shared their personal experiences and explored ways to build confidence in both ability and self.
A motivational talk from independent rapper OneDa (who has been delivering rap and lyric writing workshops for girls at More Music over the summer as part of the HERchester project) helped to inspire and build positive energy in the group. They gained confidence, everyone overcame individual barriers. They gained confidence working as part of a team, being able to get on stage and sing and much more!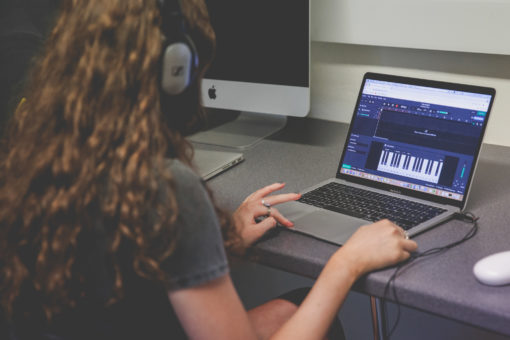 The impact of Girls Can is already being reported. Feedback from our Artist Boot Camp #1 has included…
* My daughter played piano and sung for many years but that workshop gave her inspiration to decide to take music as a career choice and not just a hobby. She has chosen to do two higher BTECHs in Music performance and music technology as well as A level music starting in September.
* I liked being taken seriously
* I liked that people pushed me to reach my potential and try going out of my comfort zone
* I have developed confidence in myself
* It was an amazing experience and I hope to carry this on
* I have taken the inspiration to keep writing and chasing my dream and goals
* I liked meeting new people, artists and learning from them
* I learnt tricks and tips for song writing and production
* I liked using professional equipment
* 'I have gained performance confidence
*  It is fantastic to have the chance to be involved in something like this especially as we live quite far from large towns and cities where there are many more opportunities that we lack in more rural areas.
---
Excitingly, we can also  announce the dates for the next  of our inspirational three-day residencies where we will be joined again by Sarah Angel IORA and Harriet North as resident artists.
From the 10th – 12th Dec 2021, young women from Lancashire will have the opportunity to develop their musical, technical and performance skills, with the guidance and support of inspiring professionals to
* Construct their 'sound' collaborating with musicians and producers
* Write and record tracks
* Explore the process of releasing music
* Master the art of rehearsal & performance preparation
* Develop their profile as an artist, technician & musician
* Develop sound tech and lighting skills
For more details follow the link to our event page.
---
Workshops will run:
Fri 10th Dec:  5pm – 8pm
Sat 11th Dec: 10.30am – 5pm
Sun 12th Dec: 10.30am – 5pm
For young women & people from marginalised genders aged 14 – 19
Application Process:
To find out more and /or to make a booking, please email  rachel.parsons@moremusic.org.uk. telling us about your musical experience and background and why you would like to be part of this project.
---
Girls Can is funded by Youth Music and Lancashire Music Hub.
For more information about HERchester, which is being run by REFORM Radio, click here.
Photo credits: Ginny Koppenhol