Singing our way through the pandemic with Seagull Café
Posted by More Music on 25 June 2021
Anna Daly, Project Manager of our Music for Health sessions, spoke to Bryan Griffin at Beyond Radio in April about our Spirit of 2012 funded community singing group, Seagull Café, and how it has continued to connect the older generation during the pandemic.
As humans, we all need to feel connected, and Seagull Café aims to decrease social isolation and loneliness for participants. Led by two of our Music Leaders, Bill Roberts and Sian Phillips, participants come together to sing and socialise in a fun atmosphere with a strong community feel.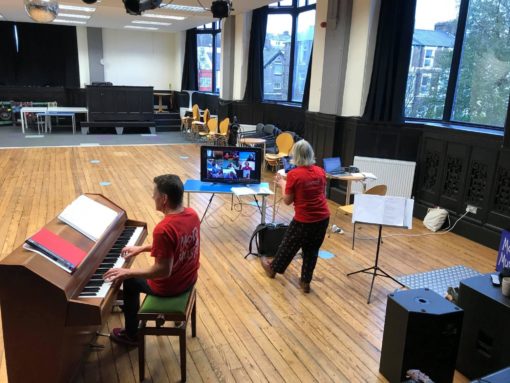 Seagull Café was one of the first sessions to have to stop at the beginning of the pandemic and there was also initial concern about moving the session online due to technological barriers. Speaking about her interview with Bryan, Anna says:
"We chat about Seagull Café and its aims to improve social isolation and loneliness in people over 60, and how this continued to support people's wellbeing and social connections through the pandemic as we moved online."
Despite the concern, Seagull Café was in fact a great online success, with 10 to 12 regular attendees, for many it was their first time using video calls and were pleased to get more confident with being able to participate this way. For all the musicians and participants involved, together we were able to explore this new way of connecting during a time when we all felt the impact of such social isolation. Encouraging rounds of applause when someone managed to connect the audio, helped!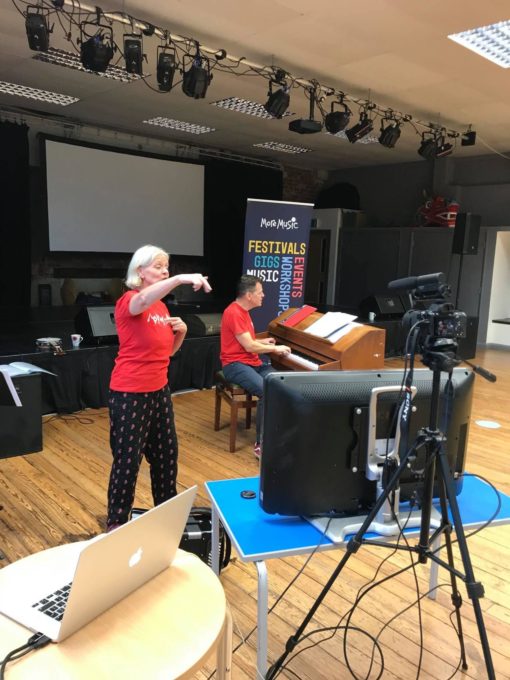 During the pandemic, we've all had to try and embrace these new ways of connecting and Seagull Café has been an opportunity for people to step out of their comfort zone. It's never been more important for people to come together and support one another, and as Anna explains:
"Health is about medical needs, yes, but as the pandemic has highlighted, it's about our social health and connection to others in our community… We revel in the very natural nature of a singalong, following in the traditions of music hall, it's convivial and collective nature and the feel-good benefits of singing loud like nobody can hear you!"
---
Seagull Café runs on Tuesdays from 2pm to 3pm and is free for anyone over the age of 60 to join. Sessions are now back in person, taking place outside More Music (weather permitting) Please email info@moremusic.org.uk if you would like to enquire about joining the group.
To listen to all of Anna's interview with Bryan click HERE. Anna's interview begins at 39 minutes, but you can also listen to Bryan interviewing Cath McClelland from the Bay Medical Group earlier on in the show.
Seagull Café would not be possible without funding from Spirit of 2012. Check out their work HERE