(Grounded) Industry Week
A week of inspiration, music, debate, masterclasses and gigs. We will explore environmental issues and sustainable, creative careers pathways in the North West.
[Grounded] Industry week:
*provides a platform for young people to influence the future 
*Connects young people with inspirational artists 
*Explores the environmental impact of the music industry 
*Showcases North West artists
Free and open to young people aged 12 – 25
Monday 11 July
Launch party | 6 – 8pm
Free. All welcome.
An evening launching Grounded Music Industry week.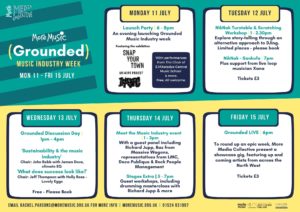 Featuring:  
-Snap Your Town exhibition opening
-Guest speakers 
-The Choir of E.Mikeladze Central Music School
-Unique Kidz 
-DJs 
-More Music's Young People's Celebration Awards!
Tuesday 12 July
NikNak Turntable & Scratching Workshop | 1 – 2.30pm
Are you a DJ and interested in developing your skills? Would you like to explore story-telling and scratching using turntables and other DJ equipment? 
Then book a place on this exclusive workshop with one of DJ Mag's 'Ones to Watch 2022' award-winning DJ and Turntablist NikNak   
Limited places – please book in advance by emailing: rachel.parsons@moremusic.org.uk
Nik Nak – Sankofa | Doors: 7pm | £3 
An immersive sound and visual experience. NikNak sculpts soundscapes that combine with visual artist Loëpa's imagery to create an immersive new sonic world. Plus support from XANA.
Tickets £3 – to purchase click here
Wednesday 13 July
[Grounded] Discussion Day | Free | 1 – 4pm.
Join us for an afternoon of discussion and debate where we will be exploring the theme of sustainability within the music industry. The topics for discussion are based around themes that are important to young people, including the climate emergency and employment, and have been chosen by the More Media Collective.
1.15pm – 2.30pm Discussion 1 : 'Sustainability and the music industry' 
Chaired by John Robb
Guests:
-Jeff Thompson -Unconvention
-James Dove – ClimateEQ
2.45pm – 4pm Discussion 2:  'What does success look like' – 
Chaired by Jeff Thompson
Guests:
– Holly Ross – Lovely Eggs
– John Robb – Journalist, TV & Radio presenter, Musician, Author
– Cath Sewell – Lancashire Music Service
Thursday 14 July
'Meet the Music Industry' event | 1pm – 3pm 
For young people aged 12 – 25 
Register a place by emailing: rachel.parsons@moremusic.org.uk 
Bringing together professionals from across the North West to talk about careers, opportunities and pathways into the music industry. 
Guest speakers
Chaired by  Jeff Thompson – Unconvention 
Richard Jupp  – Elbow co- founder, Lecturer (LIPA & BIMM) & Private Drum Tutor
 Terri Chapman – Rock People Management
Louis Davy – Lancaster and Morecambe College
Lauren Zawadzki – Deco Publique 
Baz Mills –  Massive Wagons 
Stages Extra | 5 – 7pm
Free // ages 12 – 19 
A night of guest masterclasses & workshops including drumming masterclasses with Richard Jupp.
To register a place on Richard Jupp's Drumming workshops please email:  rachel.parsons@moremusic.org.uk
Friday 15 July
Showcase gig | 6pm
To round up an epic week, More Media Collective present a Grounded showcase gig, featuring up and coming artists from across the North West.
Tickets £3 – buy on the door. All welcome.